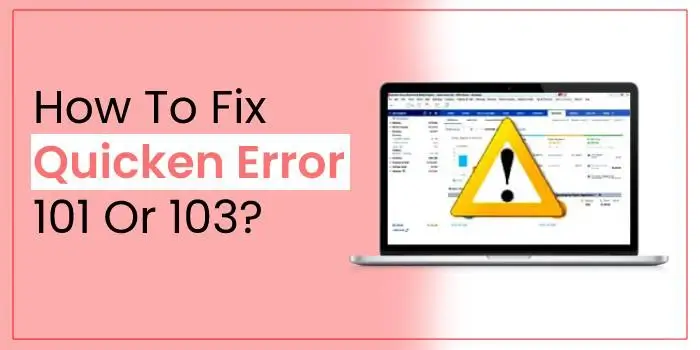 Quicken is a software that is perfect for individuals who want to keep a check on their finances and manage everything in one place. You can perform all your accounting functions, such as taking note of the balance and transactions, planning a budget, and a lot more. Just like any other software, this one has its issues too. If you use Quicken and want to know how you can troubleshoot Quicken Download error 101 and 103, keep reading.
While reading this blog, you will come across what this error is about, what causes it, and how you can resolve it and resume your operations. So without further ado, let's get into it!
Quicken Download Error 101 And 103
Quicken Error 101 or 103 occurs while downloading the software from a CD. In addition to that, a user can also get an error message while downloading bank transactions using a one-advanced update service to add to the software. However, it is not really difficult to fix Quicken Error 101 or 103. Just follow the solutions mentioned further in the blog, and you will be able to resume your work again.
Following are the errors that you might encounter here:
Error 101 Connect
Error 101 Add
Error 103
Ccscrape 101
Ccscrape 103
Causes of Quicken Download Error 101 And 103? 
There are a few things that can trigger Quicken error 101 or 103. Let's see what they are.
The error can occur if you are using an outdated password to enter Quicken.
Also, you might get the error when updating accounts because of an expired password in keychain access.
For Troubleshoot Quicken Error 101 or 103
Follow the steps mentioned under the fixes provided below to resolve the issue.
Fix 1: Deactivate the Accounts Facing These Issues
The first way is to delete the accounts that display any of the 101 or 103 error codes.
To initiate, open Quicken on your PC.
Next, go to the Accounts option and select Hide and Show Accounts.
Furthermore, remove the tick-marks from the accounts that you need to deactivate.
Once that is done, go to Settings and open the Financial Institution section.
Thereafter, select Troubleshooting and select Deactivate Downloads and save the changes.
Repeat the same steps on every account that require you to troubleshoot Quicken error 101 or 103 and then close Quicken.
Fix 2: Remove Keychain Access Password
Removing the password for keychain access might also help you with the process.
Go to the Finder menu, and with the help of the search bar, look for Application and Utilities.
Once the window opens, create a keychain. This will help you in logging in.
Next, locate the Quicken cloud that is showing the error and delete all the existing entries.
Finally, close the keychain access application and check if the error still persists.
Fix 3: Update your Bank List
If you still get an error code, try updating the bank list.
Head to Quicken's application to start the process.
Now, open a new account from the Accounts section.
Next, click on the accounts with the errors and tap on the question mark.
The question mark here means My Bank is Not Listed.
After that, select the Show List and add the bank server name in the provided space.
Now, put in your login credentials and hit the Continue button.
Once you follow the steps correctly, you will see your bank details on the screen.
Fix 4: Reinstall Your Quicken Accounts
Try to reinstall the accounts if you still face Quicken Error 101 or 103.
Initially, go to the application and make a separate section under your bank's name.
Next, enter your login information and hit the Continue button.
Once that is done, Quicken will detect your current accounts and show the details of your bank on your screen.
Remember that you need to link your accounts instead of adding them.
Information Quicken Error 103
Quicken Error 103 is also referred to as Runtime error in the program. This is an infuriating error and can take you to your wit's end. Therefore, you need to troubleshoot it as soon as possible. This bug in the program can be fixed by repairing the erroneous code base. When you get this error as a Quicken user, you may inform professionals to fix the error for you. Besides, if you are prompted to update the software, it can be a part of the QuickBooks error 103 troubleshooting. Let's dig deeper into the possible causes and other important aspects of the error.
Error Information
Quicken is an Intuit Inc. product that can give the following error:
Error name: Quicken Error 103
Error number: Code 103
Description: Error 103: Quicken has encountered a problem and needs to close. We are sorry for the inconvenience.
What Evokes Runtime Error Code 103 in Quicken?
Now that you have a fair idea about Quicken error code 103, it is crucial to understand the possible reasons behind the error. A problematic source code during the startup phase is one of the most apparent reasons behind the error. However, there are multiple other factors that can promote this problem. Check below:
1. Error 103 Crashing The Program
Quicken Crash error terminates the program completely when it takes place. This error crops up when the software fails to recognize that the input provided to it is incorrect. Besides, it also doesn't understand what it will yield as output.
2. Memory Leak Error 103 in Quicken
The memory leak issue 103 can cause Quicken to utilize more memory, which leads to sluggish performance of the system during startups or when yielding outputs. A misconfigured software by Intuit Inc. can be a possible reason behind the error. Besides, when a command starts a loop that can't be ended, a memory leak error can take place.
3. Logic Error 103 – Program Producing Wrong Outputs
This error occurs when Quicken gives wrong outputs, even after providing the right inputs. When Intuit's source code induces vulnerability in the information process, Quicken error 103 can come into the picture.
Other possible reasons behind the error:
• When an essential file is missing or corrupt in the program.
• If the program is infected by a virus or malware attack.
• Invalid or corrupt Quicken registry entry.
• Accidental deletion of an essential Quicken-related file by a third-party application.
• Conflict between Quicken and other applications.
• Partial installation or corrupt download of the Quicken application.
Symptoms Of Runtime Error Code 103
Runtime error 301 in Quicken can abruptly appear on your screen without any prior warning. However, when the error occurs, it throws an error message. The error message can show up every now and then until fixed. You may see instances of file deletion or new files appearing on your screen. Weak or unstable Internet connection is also one of the main symptoms of the Quicken error 103 you may experience when using the program.
Read Also:  Quicken Error 1310 Or 1303
Final Statement
Quicken might face some issues at the time of downloading the application as well as when downloading bank entries. This blog has 4 solutions that can help you resolve Quicken error 101 or 103. Just follow the steps correctly, and you will be able to resume working on the application. If you have any other Quicken issues and are looking for solutions, we are here for you. Visit our website, Go Taxation, and you will find the answer to all your questions there.